This coffee cake recipe is so easy to make and only takes a few minutes in the microwave. It's light and fluffy, with a streusel topping that's out of this world. You'll love it for breakfast or as a snack any time of the day.
This coffee cake is so easy to make and only takes a few minutes in the microwave. The best part is that it tastes just as good as any coffee cake you would get at a bakery. If you are looking for a quick and easy dessert, this is the perfect recipe for you!
Ingredients:
1 cup all-purpose flour
1/2 cup sugar
1 teaspoon baking powder
1/4 teaspoon salt
6 tablespoons butter, melted and cooled slightly
1 egg, beaten lightly
1/2 cup milk
For the streusel topping:
1 tablespoon sugar
1 tablespoon all-purpose flour
1 teaspoon cinnamon
1 tablespoon butter, melted
Instructions:
In a large bowl, whisk together the flour, sugar, baking powder, and salt.
Add the butter and egg and mix until well blended. Add the milk and mix until the batter is smooth. Pour into an 8×8 inch microwave-safe dish.
In a small bowl, whisk together the streusel ingredients. Sprinkle over the top of the batter. Microwave on high for 4-5 minutes or until the cake is cooked through.
Let cool for a few minutes before serving warm. Enjoy!
Microwave Coffee Cake Recipe
Can You Bake a Cake With Microwave?
You can absolutely bake a cake in the microwave! In fact, microwave cakes are some of the quickest and easiest desserts you can make. All you need is a mug, a few simple ingredients, and a microwave.

Mug cakes are perfect for when you want a small dessert or snack without having to make an entire cake. Plus, they only take a few minutes to make!
Here's how to make a basic chocolate mug cake:

1. Start by adding all of your dry ingredients to the mug. This includes your flour, sugar, cocoa powder, baking powder, and salt. Give everything a good stir until it's well combined.

2. Next, add your wet ingredients. This includes milk (any kind will work), oil (you can also use melted butter), and vanilla extract. Stir until everything is combined and there are no lumps remaining.

3. Add in your chocolate chips (or any other mix-ins) and give the batter another good stir before popping it into the microwave. Microwave on high for 1-2 minutes, or until the cake is cooked through. The cooking time will vary depending on your microwave so start checking at 1 minute and then cook in additional 15-second increments as needed.

4 Allow the cake to cool for a minute or two before digging in!
How Do You Make a Microwave Cake Moist?
A moist and delicious cake is the perfect ending to any meal. But what do you do when your cake comes out of the microwave to dry and crumbly? Here are a few tips to help you make a moist and tasty cake in your microwave.

Start with a good recipe. A tried and true recipe will give you the best results. If you are using a box mix, be sure to follow the instructions on the box exactly.

Mix all of your ingredients together thoroughly before microwaving. Microwave your cake on 50% power for shorter intervals of time. Check your cake frequently so that it doesn't overcook and become dry.

When a toothpick inserted into the center of the cake comes out clean, it is done. Allow the cake to cool completely before frosting or serving. If your cake does come out dry, there are a few things you can do to salvage it.

First, try microwaving it on 100% power for 30-60 seconds with a cup of water placed next to it in the microwave. This will add moisture back to the cake making it more moist and delicious! Another option is to slice off the top layer of the cake which is usually drier than the rest, then spread on some frosting or glaze evenly over the entire surface – this will add both sweetness and moisture back into your dry microwave Cake!
What Makes Coffee Cake Taste Like Coffee?
When it comes to coffee cake, there are a few key ingredients that help give it that unmistakable coffee flavor. One of the most important is, of course, coffee itself! You can use brewed coffee or instant coffee granules dissolved in water – whichever you prefer.

Another key ingredient is milk. This helps to create a moist and tender cake. Finally, sugar also plays a role in giving the coffee cake its characteristic sweetness.

So, what happens when you combine all of these key ingredients? The result is a delicious and fragrant cake that's perfect for enjoying with your morning cup of joe – or any time of day!
How Do You Store a Mug Cake?
Assuming you are talking about an already made mug cake: The best way to store a mug cake is by placing it in an airtight container and then putting that container in the fridge. This will help to keep the cake moist and prevent it from drying out.

If you are not going to be eating the cake within a day or two, then you can also freeze the mug cake. Just make sure to wrap it well in plastic wrap or place it in a freezer-safe bag before freezing.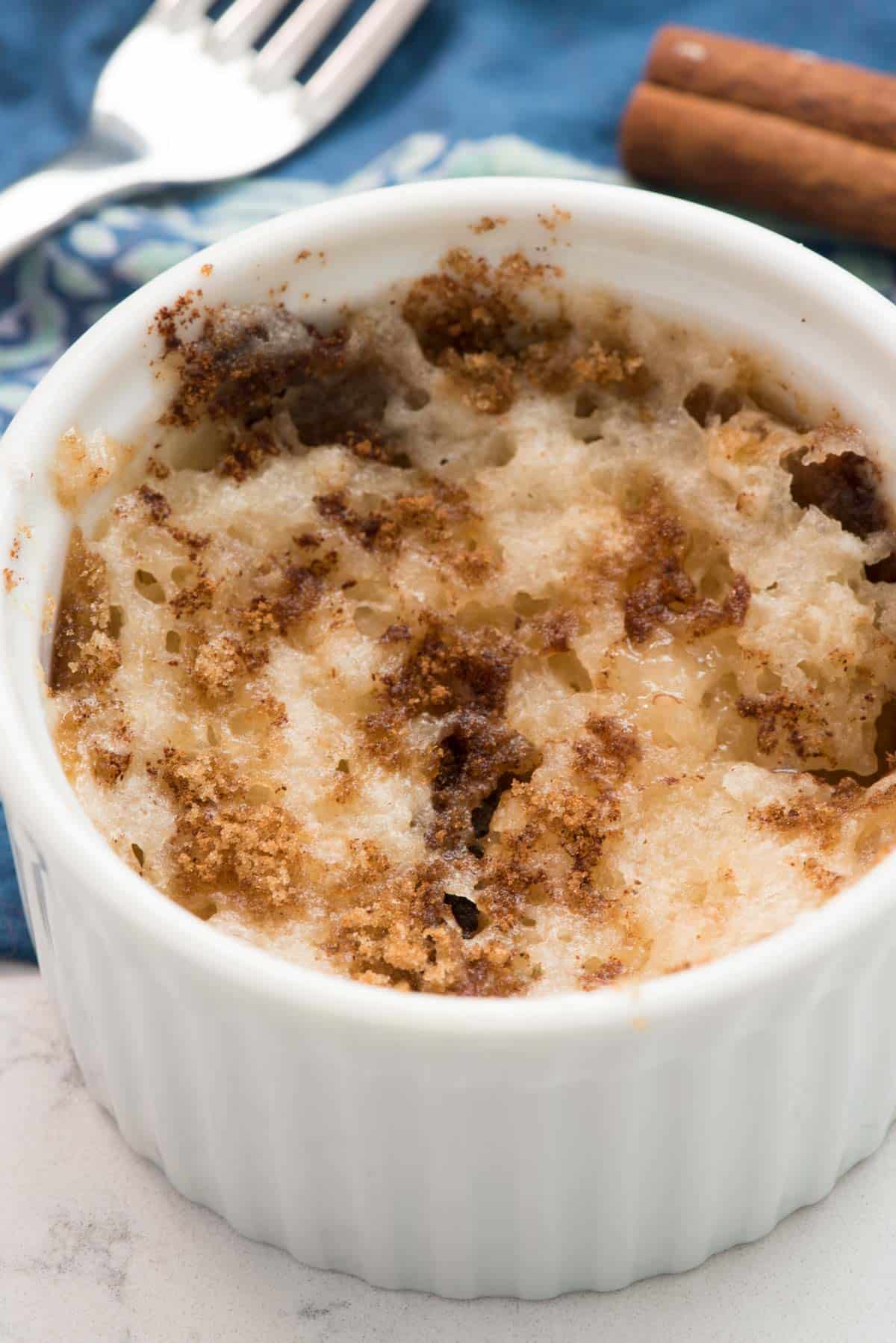 Credit: www.crazyforcrust.com
3 Ingredient Coffee Cake
This coffee cake is the perfect way to start your day! It's made with just three ingredients and takes less than five minutes to make. Plus, it's super moist and delicious.

Simply mix together a cup of self-rising flour, a cup of sugar, and a cup of coffee. Then pour the batter into a greased and floured pan and bake at 350 degrees for about 30 minutes. That's it!

Enjoy your fresh and yummy coffee cake with a cup of coffee or tea.
Coffee Cake in a Mug Recipe
This coffee cake in a mug recipe is so simple and delicious, you'll want to make it again and again! It's the perfect single-serving treat for when you want something sweet, but don't want to go through the hassle of making an entire cake. This mug cake comes together in just a few minutes and is cooked in the microwave, so it's super easy to make.

And because it's made in a mug, there's very little cleanup afterward! This coffee cake has a lightly sweetened coffee flavor that pairs perfectly with the rich cream cheese frosting. The cake itself is moist and fluffy, while the frosting is thick and creamy.

Together, they make a heavenly combination that will have you coming back for more! If you love coffee cakes, then this recipe is definitely for you. And even if you're not usually a fan of coffee cakes, I think you'll be pleasantly surprised by how much you enjoy this one.

So why not give it a try today? You might just find yourself falling in love with Mug Cake Coffee Cake!
Coffee Cake for One Recipe
This recipe is for a coffee cake that serves one person. It's the perfect single-serving dessert because it's not too sweet and has a hint of coffee flavor. The cake is moist and fluffy, and the streusel topping adds a delicious crunch.
Ingredients:
1/4 cup all-purpose flour
2 tablespoons sugar
1 teaspoon baking powder
1/8 teaspoon salt
2 tablespoons butter, melted and cooled slightly
Conclusion
This Microwave Coffee Cake Recipe is an easy and delicious way to make coffee cake! This recipe only takes a few minutes to make and is perfect for those mornings when you want something sweet but don't have a lot of time. The cake is moist and fluffy, with a rich cream cheese frosting.

It's the perfect treat to enjoy with your morning coffee or tea!
Asma Sheikh is a food and recipe blogger who loves to cook and bake. Her blog, "Kitchen Crunch", is all about sharing her recipes with the world. Asma has been cooking and baking since she was a little girl, and she loves to share her passion with others. She believes that anyone can cook, no matter their skill level, and she enjoys helping others to learn new techniques and recipes.